Cohen & Dwin, P.A.
Justice Attorneys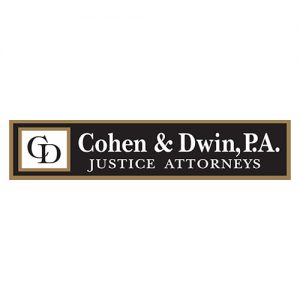 Phone 800.692.2500

Cohen & Dwin, P.A.
9505 Reisterstown Road
Suite 1 North
Owings Mills, Maryland, 21117
---
If you are in need of legal services in Maryland, you deserve to secure a law firm that will handle all details of your case to get you the best outcome possible. The law firm of Cohen & Dwin is a top choice. Founded in 1977 by two principal attorneys in Maryland, the law firm has been helping the people of Baltimore and Maryland fight for their rights in general law, domestic relations, and personal injury cases.
The staff and attorneys at Cohen & Dwin are dedicated to helping each and every client individually. The law firm understands that a quality attorney provides more than just legal advice. A quality attorney provides strong action and personal service. The firm has both the passion and the knowledge to make sure you and your family are both taken seriously and treated fairly.
When you choose to be represented by Cohen & Dwin, you gain the expertise of eight attorneys specializing in areas such as:
Personal Injuries
General Law
Divorce Relations
In addition, you will gain an invaluable support system trained to aid you through your personal injury case.
The law firm of Cohen & Dwin was founded in a small office in Baltimore City. With years of hard work defending the "little guy," Cohen & Dwin have developed experience and many different cases and clients. Their astounding reputation has allowed the firm to expand their law firm to six different offices located all over Maryland.
If you have thought about retaining a quality attorney in Maryland, schedule a free consultation with Cohen & Dwin to see how the expert lawyers could help you. Without the assistance of an experienced attorney, you could stand to lose what is rightfully yours.
Visit Cohen & Dwin, Personal Injury Attorneys Today
---
Practice Areas
Car Accident
Criminal Defense
Dangerous Products
Divorce Law
DUI
Family Law
Medical Malpractice
Nursing Home Abuse
Personal Injury
Product Liability
Workers Compensation
---
Certifications
Maryland State Bar Association
---
---