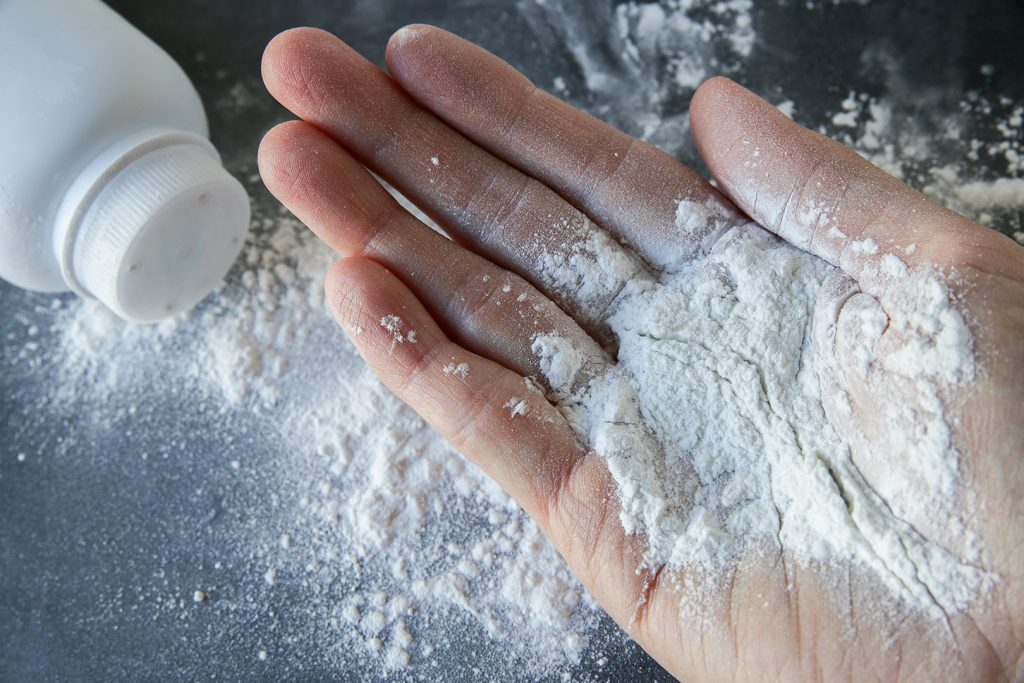 There's possibly no more ubiquitous health and wellness product in the United States than baby powder. It seems that no family with a newborn child can survive without it, and it's an undeniably useful item to have around the house even when everyone has grown up.

Baby powder is the ultimate consumer product: everyone needs it, it can solve a lot of problems and it seems like a completely benign substance. It's nothing but fluffy white powder, after all. And the most widely used baby powder product is manufactured by Johnson & Johnson, one of the nation's most famous corporations.

Of course, we all know that appearances can be deceiving. Thousands of Americans have filed lawsuits against Johnson & Johnson, alleging not only that the manufacturer's iconic baby powder contains asbestos, but also that the company knew decades ago the product posed a threat to the health and well-being of those who used it.
Talc and Asbestos?
In 2018, a St. Louis jury awarded more than 20 women approximately $4.7 billion after the women filed a lawsuit against Johnson & Johnson alleging that asbestos in the company's baby powder caused ovarian cancer. The manufacturing giant immediately appealed, but they are facing thousands of lawsuits across the country making similar allegations. Johnson & Johnson also lost lawsuits in New Jersey and California from plaintiffs who alleged they contracted mesothelioma – a rare form of cancer that is almost always caused by asbestos exposure – as a result of using the company's baby powder.

The alleged issue with Johnson & Johnson's baby powder is relatively simple. The baby powder is made from talc, a naturally occurring substance that must be mined from the earth. Talc often occurs near asbestos, which we know from decades of painful experience can cause cancer. The thousands of plaintiffs are alleging that Johnson & Johnson's baby powder often contains asbestos, which makes it dangerous – even potentially fatal – for the product's users.

But while the lawsuits are relatively new, the concerns over asbestos are not. And recent investigative work has found that those concerns existed within Johnson & Johnson itself.

These issues date back to the late 1950's. In 1957, an independent consulting lab found tremolite – a mineral that is characterized as asbestos – in Johnson & Johnson's baby powder. And in 1969, a company executive exchanged memos with a Johnson & Johnson doctor about the presence of tremolite in the baby powder, with the doctor expressing concern that the company could "become involved in litigation."

The concerns did not stop there. In the 1970's, Johnson & Johnson executives discussed the danger of asbestos and whether the company should change its testing procedures or even replace talc in its baby powder.
The Company's Response
Johnson & Johnson has maintained a consistent message in response to asbestos-related accusations: put simply, there is no asbestos in its baby powder. The company's attorneys and spokespeople have said the accusations are based on "junk science" and that 50 years of studies have consistently found no asbestos in Johnson & Johnson's baby powder.

However, reporting from The New York Times (linked above) found evidence the company engaged in systematic efforts to suppress unfavorable studies. These efforts included exerting pressure on independent academics and threatening lawsuits to prevent the federal government from releasing the results of studies that found the presence of asbestos in Johnson & Johnson baby powder.

An internal memo noted that staffers at a major talc mine owned by Johnson & Johnson destroyed potentially important records when the mine was sold. And Johnson & Johnson was able to successfully block the release of internal findings and test results in a pioneering lawsuit filed in 1999 by Darlene Coker, a Texas woman who eventually died of mesothelioma.

The company has also been releasing its own studies showing no asbestos in its product. For its part, the FDA responded to industry pressure by backing off from plans to regulate asbestos in talc products. Currently, cosmetic companies adhere to a voluntary no-tolerance policy for asbestos in talc.

Still, for all of Johnson & Johnson's size, wealth and power, lawsuits related to its flagship baby powder product continue to proliferate. The wheels of justice turn slowly, and even victims in the initially successful lawsuits are years away from seeing any compensation. But there's no doubt the company will find itself defending baby powder in courts across the country for years to come.